Meet Our Team
Professional Oakland County Remodelers
Meet the team behind one of Oakland County's top remodeling companies. Tri-Pups, Inc. has been providing exceptional home and business improvement solutions for clients in the area since 1997.  We would not be what we are today if not for the unwavering commitment of our Team.   Each member of the Tri-Pups family has their own story to tell. Get to know these talented individuals who work tirelessly to provide the right solutions for any kind of remodeling project that you may have.
Chris Adamski - President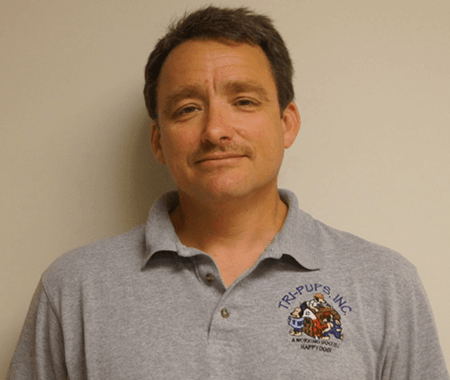 Chris has been involved in nearly every facet of construction since 1977. As a teenager he assisted his step-father with tile installations. While attending college he worked as a rough carpenter, a handyman, and a repair technician. He later picked up more skills in the remodeling industry, such as electrical, plumbing, and painting. Chris holds a Bachelor of Science Degree from Wayne State University. His original plan was to become a doctor, but when circumstances prevented that from occurring, Chris decided to pursue his other passion — construction and remodeling. The story of how Tri-Pups evolved can be found on WHO WE ARE.
As one of the most experienced remodelers in the team, he is involved in some capacity with every job that Tri-Pups takes on. He can usually be seen on the job site lending a helping hand or leading a crew. He also prepares all of the written estimates, paychecks, and invoices that Tri-Pups generates. For Chris "A Working Dog is a Happy Dog!" is not just a slogan but a way of life. He works tirelessly, 365 days each year, to guarantee that the work we do is done on time, within budget, and with the quality standards that he firmly believes in.
Other than being a well-experienced remodeler, Chris enjoys playing racquetball, bicycling, hiking, playing chess, eating Brussel sprouts, and hanging out with his pups. He has jumped out of a plane (but doesn't really want to do that again) and says that another hot air balloon ride is not out of the question. Though he has no musical talent, he does like to listen to classic rock and alternative music, but no "rap crap"! He has two left feet when it comes to dancing so don't expect to see him on the dance floor!
He is an Alumnus of Pi Kappa Alpha Fraternity, Delta Nu chapter (class of '86). He is currently a member of the Home Builders Association of Michigan (HBA), The Royal Oak Optimist Club, the St. Andrews Society, the Royal Oak Chamber of Commerce and The Ferndale Area Chamber of Commerce.
Debbie Aliotta – Vice President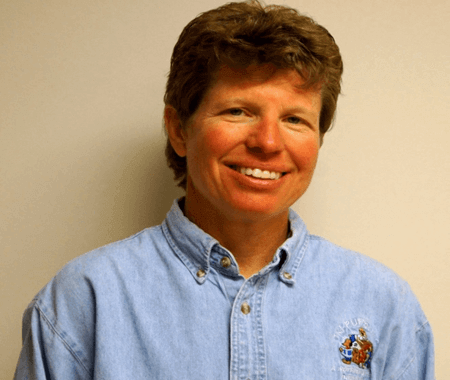 A 1987 graduate of Walsh College, Debbie spent 2 years as a Staff Accountant, 5 years as a Cost Accountant, 1.5 years as a Financial Analyst, and 3 years as a Project Manager before becoming Vice President of Tri-Pups in the spring of 1999.
Debbie has been intrigued with homes since she was a teenager. She always dreamed of buying old houses to fix up and either sell or convert to rental properties. In 1986 she obtained her Residential Builders License and in May of 1987 she became a licensed real estate agent. The entire staff of Tri-Pups assists her with making her dream a reality.
Her experiences have made her a valuable asset as she is heavily involved in our marketing, scheduling, hiring, project management, and training. She is the energetic organizer that keeps Tri-Pups running like a well-oiled machine. Don't be fooled by the fact that she is a female. She can be seen working daily leading a crew and getting dirty with the rest of us!
She believes in balancing her duties with Tri-Pups and her interests which include swimming, bicycling, gardening, volunteer work, attending theatre performances, and spending time with family and friends. She played organized sports (softball and volleyball) for many years until her knees and shoulders told her that it was either work in the construction field or play sports, but not both.
She is a member of the Home Builders Association of Michigan (HBA) and former member of the NAHB Professional Women in Building Council (PWB). She is also involved with the Ferndale Area Chamber of Commerce. As a past board member, she has been very active with the Royal Oak Chamber of Commerce since 2002.
Jon-Erik Jacobson – Interior Designer & Remodeling Technician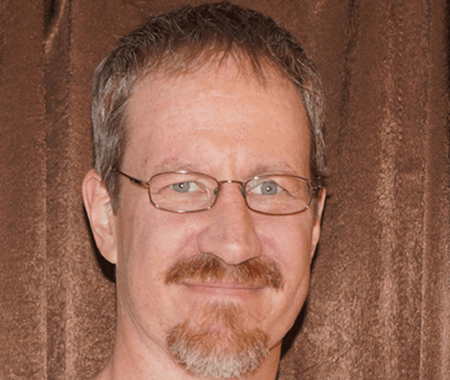 Jon-Erik learned at a very early age the satisfaction gained from building with one's own hands. Before he was even in his teens, both his grandfathers involved him in simple woodworking projects; and his father took him into his tool and die shop where he learned to work a metal lathe. His parents even have a picture of him "helping" paint the house at the age of five!
As he grew into his teens, the creativity fostered in him by his parents led him to pursue illustration and design at Center for Creative Studies, and Macomb Community College. As often happens, the career choice of the teenager is not where the adult finds themselves working.
After training, and then working as a Certified massage therapist, Jon-Erik rediscovered a venue for his creativity and his schooling in illustration and design: Kitchen and bath design and sales. For almost two decades, he worked for several kitchen cabinet companies – including being self-employed. He became well-versed in layout, and colors and materials, as well as many different brands of stock, semi-custom, and full-custom cabinets.
Through all of this, Jon-Erik held a lasting and consistent fascination with construction and how everything went together to provide a beautiful and functioning home. As a member of the Tri-Pups team since April of 2014, he has been able to apply his years of knowledge as a remodeler and learn even better ways of building and repairing.
When not building, Jon-Erik participates in the Society for Creative Anachronism, a group dedicated to recreating the more pleasant aspects of the Middle Ages. His early love of martial arts has led him to years of training as a combatant with the weapons of that time period.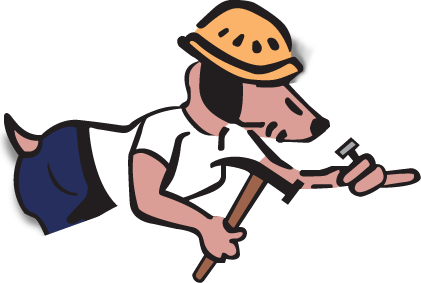 Blaze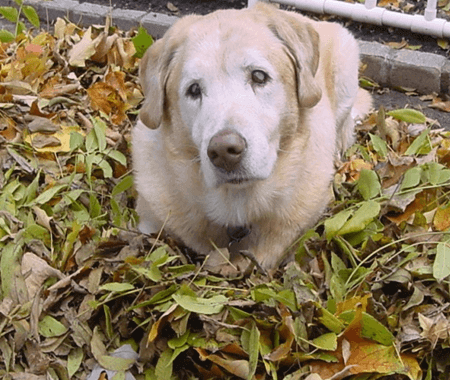 Born with detached retinas, hip dysplasia, and an enlarged heart, this purebred Golden Labrador Retriever was not expected to live more than 5 years according to the many doctors that treated her. This little trooper proved them all wrong when she lived just two months shy of her 16th birthday. Nicknamed "The Bear Compressor", as she breathed so heavily, Blaze learned to play fetch and do all of the things that non-handicapped dogs enjoy.
Pebbles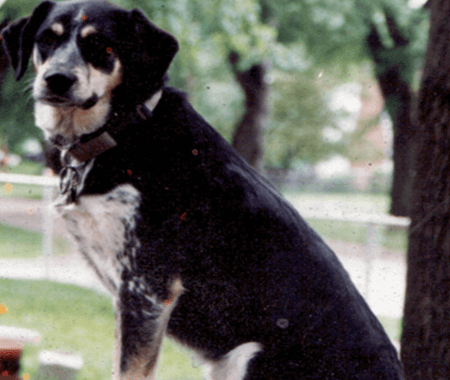 The original matriarch of our company, Pebbles was a mix of Australian and German Shepherd blended with Blue Tick Beagle. This smart girl loved other animals and every person that she met. She enjoyed camping and hiking, learning new tricks, and cuddling. She lost her battle with liver cancer a month before what would have been her 12th birthday in 2002.
Bam Bam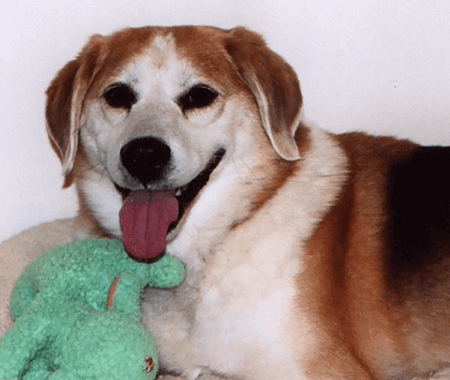 As Pebbles' litter mate, Bam Bam was inseparable from his sister. Chewing up rawhide bones, going for walks (he preferred not to have a leash on), and traveling to Michigan's Upper Peninsula were his favorite past times. In his later years he was often seen at our work sites hanging out in the van. This tough dude lived 16.5 years before walking over the Rainbow Bridge in 2006.
Corona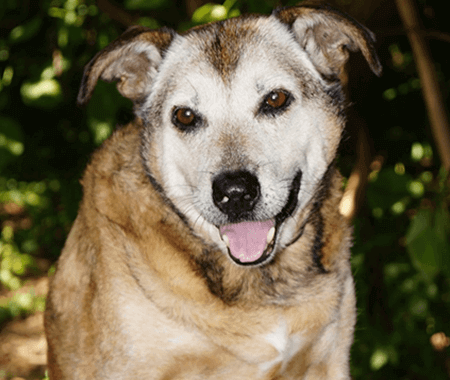 Originally found wandering in a wooded area, Corona spent the first few months of her life living with 18 other dogs at the home of a woman that assisted the Livingston County Humane Society. We fell in love with her in September 2001 when we first met her at the "Meet Your Best Friend at the Zoo Day". She was reported to hate men, but we found that to be a totally unfounded allegation as she was truly a daddy's girl. Corona graduated from the Canine College at The Michigan Humane Society Pet Education Center. Corona crossed the Rainbow Bridge in September of 2017.
Gracie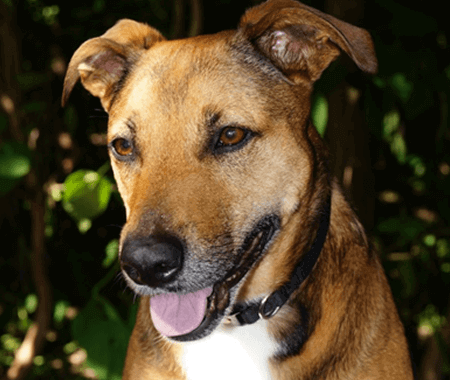 This crazy and fun-loving girl had more spunk than all of the other dogs combined. From the moment that we adopted her in March of 2006 we knew that she had a unique personality. A huge fan of people, Gracie loved to play chase and rip apart any toy with a noise maker inside. She was a graduate of Canine College at The Michigan Humane Society Pet Education Center. Gracie left us just seventeen days after her 15th birthday in November of 2020.
Rylee

Rylee joined us just 10 days after Gracie, our sole pup at the time, left us. Sadly, Rylee's owner had just passed away by her side. Imagine our excitement after those 10 days without a dog in the office! After living her first 7 years as an only dog, she adjusted well to having a younger sister. While she may be the smallest of any of the Tri-Pups, this girl loves to stir up a play fight or play chase. Just say the words "go for a ride" and she gets all excited. She and her sister have created running paths throughout the yard. When it is cold out, she enjoys walking on the treadmill in the workout room.
Blossom

After being abandoned in a basement for most of the first year or so of her life, she was taken in by the Spark of Love Animal Rescue (SOLAR) where she was given the name Blossom and began receiving the medical care that she badly needed. Despite her overwhelming odor and obvious medical issues, Rylee's immediate attachment to Blossom told us that we needed to give this girl a life completely opposite of how she had been living. After just a few weeks of medical treatment, the proper diet and a lot of love, she matured into a very solid and healthy dog. She loves to play fetch, chase and wrestle with her sister, and go for long walks.